The Georgia Securities Association is committed to providing relevant content to educate our membership while providing opportunities for networking with colleagues. The GSA hosts several member events throughout the year.
Events
GSA Spring Networking Event
The Georgia Securities Association would like to invite you to join your fellow GSA members for our Annual Spring Networking Event on June 2nd from 5:30 to 7:30 PM at Monday Night Brewing.
You may remember that we had the spring event at Monday Night in 2014 and it was fantastic. The event is free to all Georgia Securities Association members and employees of member firms. We look forward to seeing you there.

---
Future of Finance in Atlanta
Registration is open for the Future of Finance in Atlanta event on May 18th, 2016
Our partners include ASFIP, CAIA Atlanta, NASP Atlanta, SEHFA, and ACG Atlanta.
Topics include Putting Investors First, The Future of Finance, Retirement Security, Financial Literacy Initiatives and making a difference through derivatives and alternative investments.
Atlanta Mayor Kasim Reed will speak about the current state of the financial services and investment management industries in Atlanta,
what the government is doing to attract investment firms and talent to Atlanta and how the industry can better serve Atlantans in the future.
---
GSA Market Structure Panel and Dinner – April 27, 2016
The Georgia Securities Association, along with Weeden & Co., are pleased to invite you to a market structure panel discussion and dinner. Cocktails start at 5:30 and dinner at 6:15. We are looking forward to a lively discussion on a variety of topics concerning the financial markets.
Panel Discussion: Starting at  6:30 PM.
Panelist:
Andrew Upward, Head of Market Structure at Weeden & Co
Jeff Alexander, Principal at TABB Group
Michael Masters, CEO of Masters Capital Management, LLC
Moderator: Justin Oeltze (GSA Board Director, Jones Trading
---
Women in Finance Initiative – April 21, 2016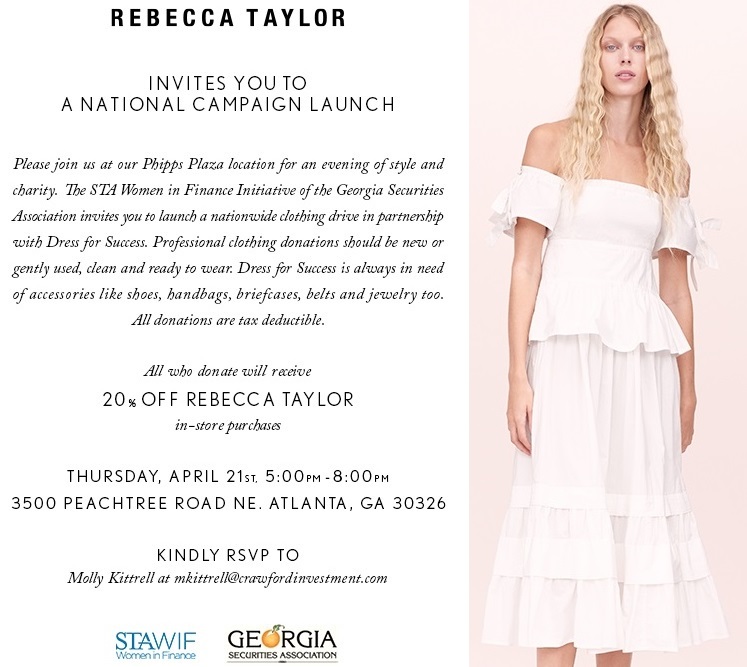 ---
Save the Date for the 41st Annual Fall Outing – October 6-7
The 41st Annual Fall Outing will be held on October 6th and 7th at the Ritz-Carlton, Buckhead. Mark your calendars and join us for a great event!
Registration will be available soon.
---
News
GSA's Women in Finance Initiative
In 2015, the Security Traders Association (STA) started the Women in Finance initiative to leverage the established network, resources, and values of the STA to foster and create a culture of inclusion for women in finance. GSA, along with several other STA affiliates across the country hosted an event on April 21st. The GSA event was sponsored by Rebecca Taylor in Phipps Plaza. It was a great event, and the GSA was proud to be a part of the initiative. The campaign concluded with the STA WIF opening the NYSE on April 27th.
GSA accepted women's business clothing which was given to Dress for Success, an international not-for-profit organization that empowers women to achieve economic independence by providing a network of support, professional attire and the development tools to help women thrive in work and in life.
GSA at the Stock Market Game Awards Luncheon
The Georgia Securities Association is proud to be a long time supporter of the Georgia Council on Economic Education. Four GSA Board Members (Kenny Jackson, Hays Evan, Russell Brown and Justin Oeltze) attended the  Stock Market Game Awards Luncheon at the Georgia Freight Depot on May 3rd, 2016. Justin and Kenny spoke to the luncheon about the diversity of the GSA membership and the different roles buy-side and sell-side participants play within the industry. Congratulations to all the winners in the Georgia Stock Market Game on getting an early start to what we hope is a lifetime of fascination with the markets, economics and the financial services industry. Keep up the good work!
Scholarships Available
The Georgia Securities Association has scholarship funds available to employees of GSA member firms and their immediate family members. Please download and complete an application by Friday, August 29, 2015 for consideration. Contact scholarship@gasec.org for more information.
STA News
Did you know that membership in the Georgia Securities Association makes you a member of the Security Traders Association? Get information about current topics that are affecting our industry. Check out current news and events from the STA Continue Reading